The Memory of Scorpions series is a gritty military fantasy featuring a very diverse, very queer cast of characters. Political drama, court intrigue, love, loyalty, betrayal and a plot driven story line that will keep you guessing right up to the very end. The beautiful covers were created by Anna Sikorska.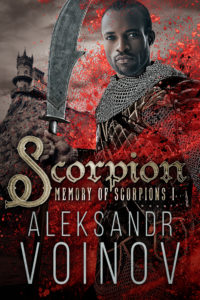 Scorpion, Book 1
You learn your wisest lessons from your enemies. Assuming, of course, you survive the encounter.
Kendras is a casualty of war: injured, penniless, and quite possibly the last surviving member of the only family he's ever known—the elite fighting force known as the Scorpions. When a steel-eyed stranger offers him medicine and shelter in exchange for submission and a secret task, Kendras has no choice but to accept. He is a Scorpion; he'll do whatever it takes to survive.
But his true goal is to rebuild the Scorpions. Neither Steel's possessive nature nor Kendras's shattered foot can keep him from finding the last of his brothers... or the mysterious leader of the Scorpions, a man who held Kendras's heart long before Steel tried to take it for himself. The goal is simple, the situation anything but. To rescue his leader and escape from Steel for good, Kendras must fight through a morass of politics and intrigue, where enemies are allies and even allies have hidden agendas.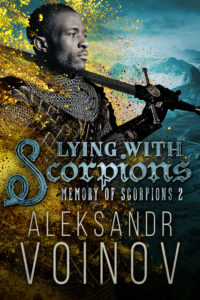 Lying with Scorpions, Book 2
If you lie with scorpions, you'd better have a taste for poison.
Now that Kendras's lover Adrastes has claimed the throne of
Dalman, Kendras is tangled deeper than ever in politics and intrigue. As the new leader of the Scorpions and Adrastes's one true friend, he and his men stand between Adrastes and those who wish him dead.
And many do. Adrastes openly challenges the ocean priesthood for power while establishing himself at court and brokering with the realm's various factions. He means for the Scorpions to become a fearsome legion again, but Kendras must first learn how to be a good officer and recruit to replace the fallen. His choices will determine the future of a group steeped in hundreds of years of history and tradition.
As both Kendras and Adrastes settle old scores, a new enemy arises in Commander Graukar, a war hero loyal to the old order. In his formidable mountain fortress, Graukar may hold the balance of power. But while Adrastes aims to either rule or destroy Graukar, Kendras finds himself doubting Adrastes for the first time, and sharing more with Graukar than he ever thought possible.
.
A Taste for Poison, Book 3
Even the hand of a king is stung when it reaches for the scorpion.
After barely surviving an assassination attempt, King Adrastes is a changed man—one who mistrusts even his allies and friends. He readies his empire for war against an enigmatic enemy, the Elder of Vededrin, but not everyone approves. While courtiers dare only to whisper dissent, an outrider called Death foments rebellion in the mountains, aided by a prophecy that promises he'll stop the Black King.
Kendras—former lover to Adrastes and leader of the Scorpions—is sent with his elite mercenary force to bring Death to justice. But when Kendras learns who's hiding behind the mask, he must choose between his lover Graukar, newly appointed general to the king—and King Adrastes himself.
With no man to call master, the Scorpions could flee the danger and intrigue. But Kendras cannot abandon the man he once loved—or the man he's growing to love—without first uncovering the real threat to the Empire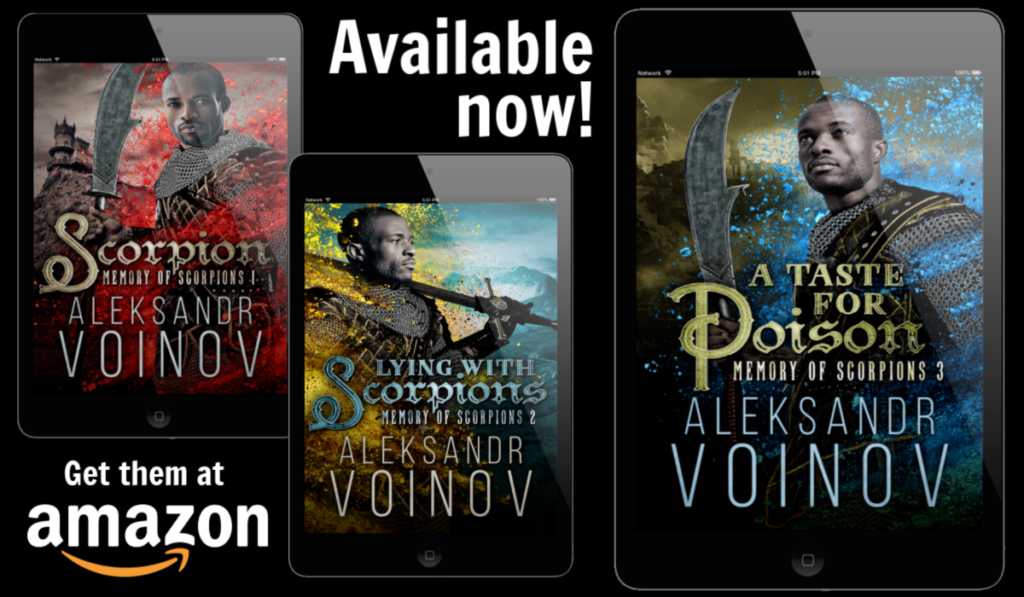 Meet the Author
Aleksandr Voinov is an emigrant German author living near London, where he works as an financial editor, writing coach, and complementary therapist. At 43 years of age, Voinov has written more than two dozen novels and published five novels with German publishers. After many years working in the horror, science fiction, cyberpunk and fantasy genres, Voinov is now primarily writing queer fiction.
Described as a "workaholic speed-writing freak" by fellow writers, a "creative writing class drill sergeant" by his writing 'padawans', Voinov is a self-confessed geek and has enlarged his days by 12 secret hours in return for the sacrifice of ten albino virgin pygmy hippos.
Voinov's style has been called "dynamic to the point of breathlessness" and "disturbingly poetic" by publishers and literary agents. A recurring theme in his fiction is "the triumph of the human spirit" or an individual rising to challenge the status quo in a world gone bad.
Intellectually, he is drawn to the dark side of human nature and history. As a trained historian, he is fascinated by wars, religion and the conflict between the individual and society.
Interests at the moment include WWII, medieval siege warfare, William Marshall, the Golden Age of Piracy, and whale-hunting. These interests are subject to change from one day to the other, and Voinov single-handedly sustains two bookshops in London.
Public Contact Email: vashtan@gmail.com
Website: http://www.aleksandrvoinov.com
Facebook: https://www.facebook.com/aleksandr.voinov.12
Twitter: https://twitter.com/vashtan
Goodreads Author Profile: https://www.goodreads.com/author/show/3074905.Aleksandr_Voinov
Tumblr: http://aleksandrvoinov.tumblr.com/
Patreon: https://www.patreon.com/aleksandrvoinov
Newsletter: https://us3.list-manage.com/subscribe?u=0648aab5d3675b949f1329b38&id=eae6814f9c
Giveaway
a Rafflecopter giveaway