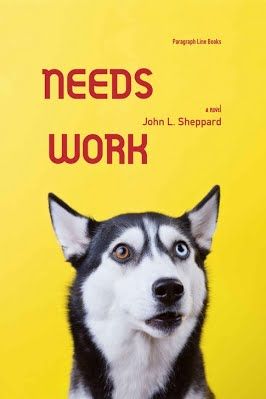 Publisher: Paragraph Line Books
Once upon a time in Cleveland... Phil Derleth, a former Army "combat cartoonist," comes home to Cleveland, Ohio after a messy divorce. Phil is brain-damaged from a war wound and there are holes in his memory. His father Larry, a stone mason living on disability, takes him in. Soon enough, Phil finds himself embroiled in all sorts of trouble, including dodging the Ohio Department of Transportation, blood-stealing tramps, the ghost of his dead mother and stray dogs who are more than they appear to be. One stray in particular will show Phil the way back to a life that he may have forgotten.
That was months after my wife threw me out, taking our daughter with her. I was twenty-seven and starting all over again with life. I moved in with my father. Moved back to Ohio, a place that I thought I'd left in the rearview mirror. Instead, it was in my cracked and hazy windshield.
My car, a ten-year-old Ford Mustang, broke down in my father's driveway never to recover. It had thrown a rod.
I got out of the car. The parking brake popped. The car slowly rolled into the street. A small fire crackled under the hood. In few minutes, dark black smoke poured out from the undercarriage and a red glow simmered within the passenger compartment. For a moment, I saw a shadow behind the wheel, a remnant of my former self, the one who was so confident that he would never again grace the state of Ohio. A small explosion. Another small explosion. They sounded less like explosions than someone manually popping a paper lunch sack. The driver's side front wheel fell off and the car tilted over. The Mustang emblem clinked onto the pavement. A car, and then another car, drove past as if this sort of thing happened all the time. Nothing to get excited about.
"My clothes are in there," I said aloud. "My employee of the month certificate. My Army uniforms. My crazy pills."
My father emerged from the tiny house I'd grown up in, leaning forward on an aluminum walker, a wry grin on his mossy face. There was a reason why he'd never grown a beard while my mother was alive. The beard was patchy in so many ways. The coloration was wrong. The growth was uneven. There were too many things wrong with his beard to list.
The look he sent my way told me that he hadn't yet forgiven me for not coming around while my mother was dying. I came to the funeral. Wasn't that enough?
The police arrived. They pulled their cruiser up to the curb. A decal on the side of the car read, POLICE INTERCEPTOR. An older fat patrolman strolled up to me. He stood alongside me in silence and we watched my car burn for a while. Finally, he said, "That yours?" His name tag said, SMITH.
"Yes," I said. "I have no money."
"Who does?" He patted me on the shoulder solicitously.
The flames licked the air. It was sensuous.
"This is my son." My father was beside us, opposite the cop.
"Total loss," the friendly, gray-haired patrolman said. He rubbed his belly like there was a cat underneath his shirt.
His partner, a youngish woman, her hair pinched into a severe bun at the nape of her neck, stood near the car in the street, waving other cars past. When the street was clear, she pulled out her ticket pad and wrote me up.
My state of Illinois vanity plate fell off the back. It read, "E4MAFIA." It was a joke that wasn't funny now that I was out of the Army. I'd been out of the Army for years. I was in the Army for four years, most of it spent in a Navy hospital in Illinois, recovering from my war wounds. The Navy corpsmen would wheel us all up to the roof of the hospital at times, I remembered. We'd sit up there, high above the base, staring at Lake Michigan. It was calming. The hospital specialized in traumatic brain injuries. It was why we were all there. We were learning to speak again. To feed ourselves. To walk. To read and write. The Navy's corpsmen school was there, so the student corpsmen would come by to gawk at us, or help us out with basic things. Eating. Finding our way back to our ward.
About the Author
John L. Sheppard, a graduate of the MFA@FLA creative writing program at the University of Florida, is a native of Cleveland, Ohio. He lives in Illinois.