Title: Pattern for an Angel
Author: CJane Elliott
Publisher: CJane Elliott
Release Date: December 1, 2019
Heat Level: 2 - Fade to Black Sex
Pairing: Male/NB
Length: 17,150
Genre: Romance, holiday, single dad, drag queen, contemporary, genderfluid, nonbinary, acceptance, family, angel, Christmas, chosen family, meet cute
Synopsis
Can an angel gown for a little boy let a single dad and a drag queen stitch together a new pattern for love?
Hospice nurse Gabe Martin is bisexual but doesn't have time for love—his main priority is raising Ian, his adopted five-year-old son. Ian loves wearing dresses at home and wants an angel gown for his kindergarten holiday pageant. When Gabe visits a sewing store to get help with Ian's costume, he's assisted by a bewitching employee named Loren who opens up Gabe's focused world.
Drag queen Loren Schuster likes playing with gender norms and wearing skirts and dresses in everyday life. A bad breakup killed his interest in serious relationships, but he reconsiders that stance when gorgeous single dad Gabe walks into the shop. Loren helps young Ian see it's okay to be himself, and together, Loren and Gabe create a new pattern for a family full of love.
Excerpt
Oh well, you win some, you lose some, Loren thought after he rang up her purchase. As he was replacing the purple-blue material on the shelf, the bell to the shop door tinkled. The store had been crazy busy, which was to be expected for the Friday after Thanksgiving. He turned. Now there's someone I'd love to win.
The guy coming in the door was seriously hot—dark and lanky with a mouth made for kissing. He was being steered along by a gal, but they were enough alike to be siblings. Loren hoped. His mouth twitched at the expression on the guy's face and his wide eyes. Safe to assume he'd never been in a sewing shop before.
Loren stepped out from behind the counter and remembered that he was wearing one of his favorite skirts when the guy's gaze dropped. He braced himself for some negative reaction and was floored when the guy smiled happily and nudged his companion. She brightened.
"Oh, you're perfect," she exclaimed.
"I am? I mean, of course I am, but why?"
"We're looking for a way to sew an angel dress for a little boy."
"Aww. That's wonderful." Loren waited for Hot Guy to say something, but his smile was more than enough. "Do you have the pattern?"
"Oh. Yeah." Hot Guy had a deep voice. Lovely. He got the pattern out of his bag and handed it over.
"Hmm. Yes." Loren inspected it and nodded sagely. "This seems straightforward enough."
"It does?" Hot Guy was even hotter with that hopeful expression.
The truth was, Loren was talking out of his ass. Mia was the expert, and this was her store. Loren enjoyed being around the fabrics and different materials, the buttons and the lace, because he loved playing dress up. But you could put what he knew about sewing into one thimble. However, Hot Guy and his girlfriend/partner/sister didn't need to know that.
"The problem is," the gal said, "neither of us know fuck-all about sewing. I still can't believe Ian's kindergarten expects the parents to sew these costumes. I mean, are we in the 1950s or what?"
"So this is for your little brother?" Loren asked.
Huh. He didn't look old enough to have a kindergarten-aged child. Bummer that Hot Guy was apparently married or whatever. But that was the story of Loren's life.
Then the gal piped up. "Gabe adopted him last year. He's a great kid."
Sounded like they weren't together if only Gabe adopted this kid. "Great. So you're Gabe, and you're…?"
"Nita. We're sister and brother. Gabe's a single dad." Nita cut a significant glance at Gabe, who frowned back. Loren could relate. Sisters always loved to meddle in their siblings' love lives.
"Hi, Gabe and Nita. I'm Loren. I'm sure we can help you figure out the sewing part. Let's start with material." Loren's favorite. White satin was way more fun than drab paisley.
Ten minutes later, after a delicious wallow in all the permutations of white satin, they had the fabric. Gabe hadn't offered many opinions about which material but had seemed amused by Loren's and Nita's many exclamations.
But when Loren confronted the rest of the pattern instructions, his head spun. Mia was usually here and helped folks with deciphering the patterns. Loren could only guess what some of it meant but did his best to pick out thread and other needed parts and assembled them on the counter.
"Well. This is everything." Loren hoped. He started to ring up the items.
"Everything but a sewing machine. What do we do about that?" Nita asked.
"You can rent them. This seems a simple enough pattern." Panic rose in their faces, and Loren quickly added, "Or, better yet, you can hire someone to sew the costume."
"Could you?" Gabe asked, shooting a sudden intense glance in his direction.
Damn. Of course he could not. But something made Loren say, "Why, I'd love to!"
Life was getting interesting. Even if Loren had to learn to sew. By tomorrow. How hard could it be?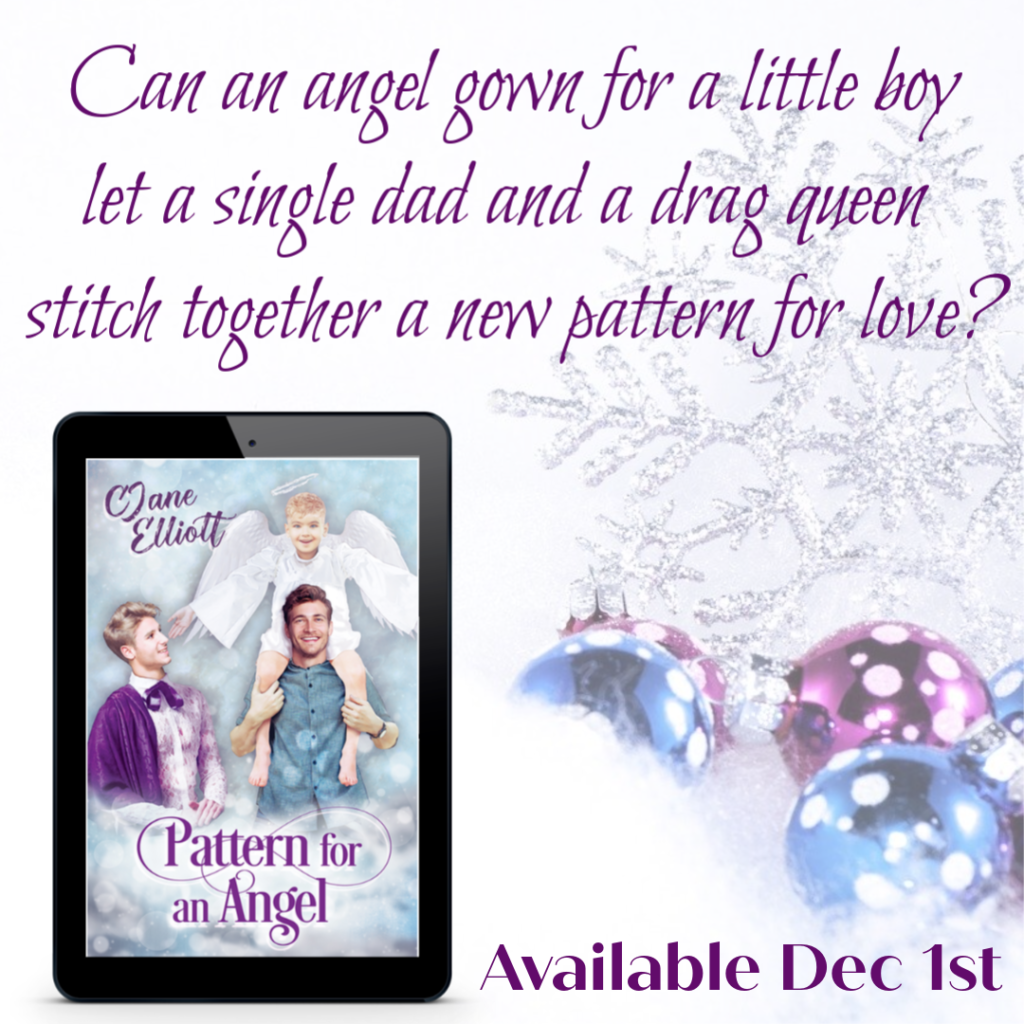 Meet the Author
After years of hearing characters chatting away in her head, CJane Elliott finally decided to put them on paper and hasn't looked back since. A psychotherapist by training, CJane is an award-winning author whose sexy, passionate stories explore the human psyche. CJane has traveled all over North America for work and her characters are travelers, too, traveling down into their own depths to find what they need to get to the happy ending.
CJane is bisexual and an ardent supporter of LGBTQ equality. In her spare time, CJane can be found dancing, listening to music, or watching old movies. Her family supports her writing habit by staying out of the way when they see her hunched over, staring intensely at her laptop.