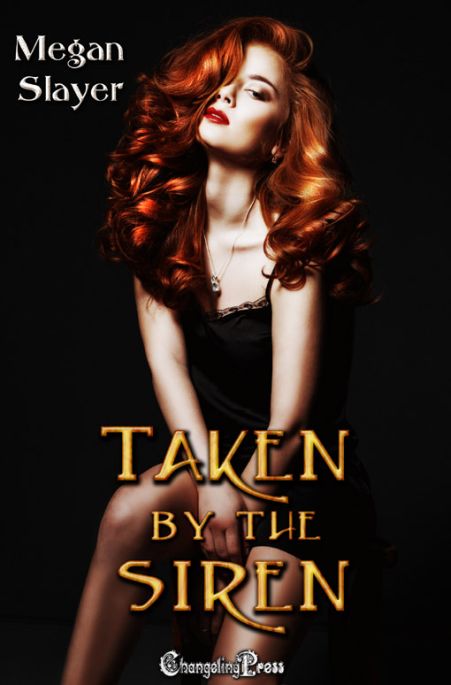 Paranormal Women's Fiction, Urban Fantasy, Action Adventure
Date Published: July 7, 2023
Michael Blessing thought he had everything he ever wanted when he met his wife. Then he found out the truth, and his world was shattered by a car accident. Coming home to Eerie was supposed to be his time to heal his broken heart.
The siren had other ideas.
Lia Darling never forgot the shy, handsome young man she'd known when they were children. Seeing Michael again awakens a need within her she can't explain or deny, but she's been hurt before. She doesn't want another dead end, and when she looks into his eyes, she sees forever.
Maybe this second chance is just what they need to heal, move forward and find love… together.
EXCERPT
Copyright ©2023 Megan Slayer
"Home," Michael Blessing murmured as he drove past the city limit line into Eerie. He hadn't been back in so long. Seemed like the day he left was the last day he thought about his hometown. Silly, really. Eerie wasn't a bad place. It was quaint. Like a storybook town. The buildings were whimsical, full of gingerbread and swirls, plus glitter and bright paint. The streets were clean and the sidewalks wide. The flowers blossomed brighter, and the people seemed to welcome everyone back.
There wasn't a stranger in Eerie -- except humans. They were all strangers, but he wasn't a human. His Fae father had married a woman who knew witchcraft. They'd been a good pairing, and Michael had the best childhood. Everyone thought his mother was human, but he hadn't cared. He was loved.
His parents were still alive and still cared about him. He was their son, and they'd always love him, but they had no idea the depths of loneliness he felt. They didn't understand the grief he dealt with on a daily basis.
The woman he loved was dead. The moment he'd seen Chloe, he knew he wanted her for the rest of his life. She'd be the best partner and eventually would make him a father.
Then she had, but she died.
He hadn't been able to manage the grief, not even a year and a half later. He needed somewhere to hide. Eerie wasn't the place to hide. Most everyone in town stood out. Witches, Elves, Faeries, gargoyles, shifters and every other kind of paranormal creature was there.
But he had a cabin in the woods on the other side of town, with a pier on the lake and plenty of space to be quiet, to hide and regroup. No one would bother him. He could write and be alone with no one bugging him, making him come out of himself or pleading with him to be social.
He didn't have any social in him.
Not today. Not this week. Maybe not ever.
His magic had dried up, too.
Did he care? A little, but not as much as he should. He drove through town, then onto the side road leading to the woods. The beauty of Eerie was that everyone had a space. The lake, the village, the little cottages, the woods… If a paranormal creature wanted a space, there was one. If he wanted to hide at his cabin and write, then practice his magic, then he could.
No one would annoy him.
He pulled into the dirt path that led to his cabin. The second he wound through the trees to his little house, he felt better. Like he belonged.
But that was always the way he felt when he came here. His heart was in the woods, among the trees and peace. Maybe he was always meant to be alone. Chloe had seen the most in him -- more than anyone -- but she was gone, and he had to pick up the pieces.
He pulled into the dirt patch next to the cabin and parked. As the engine cooled, he debated what to do. He needed to put up the carport to protect the Jeep -- not from the falling branches, but the leaves, rain and debris. He supposed he could use his magic to protect the vehicle, too. Probably should do that. It'd be a reason to practice his magic and prevent too much damage to his Jeep.
Despite needing to put the carport together, he left his vehicle and headed into the cabin. The place would need a lot of cleaning up, but he could use those tasks to procrastinate instead of writing.
He carried his bag into the cabin, then set about to put the tarp, PVC and canvas carport up. If nothing else, the carport would hide his vehicle, and maybe if anyone saw the lights on, they'd leave him alone.
He hated being so despondent and crabby, but he'd been hurt and had no idea how to get over his loss.
An hour later, he managed to secure the Jeep in the carport and even cleaned up the living room enough for living. He added a bit of magic to the carport, adding extra strength to the canvas to protect his vehicle. He'd murmured the words and checked to ensure the spell had gone correctly. Sure enough, it had, and he grinned.
At least one thing had gone his way.
He headed back into the house, and his stomach grumbled. He should eat, but there wasn't anything in the fridge. Hell, the fridge hadn't even been turned on. He needed to make a run to the store, but also should set up the Internet, too.
He cleaned the dust from the living room, then set about getting the kitchen in order. He removed the sheets around the house to reveal the furniture and, as he worked, he swore he heard music.
A familiar song. Sweet, too.
He paused, and his thoughts turned to a song he remembered from his childhood. A girl he'd known had sung the song, but probably never where she thought anyone could hear her.
He chuckled to himself. He hadn't thought about that girl or the song in ages. What was her name? She'd been a sweet young woman, with flame-red hair and fiery eyes. She rarely spoke, but she'd filled out quickly and wore revealing clothes. She grabbed attention wherever she went, but no one really got to know her.
He knew her name. He'd lusted after her the entire time they were in school.
Lia.
About the Author
Megan Slayer, aka Wendi Zwaduk, is a multi-published, award-winning author of more than one-hundred short stories and novels. She's been writing since 2008 and published since 2009. Her stories range from the contemporary and paranormal to LGBTQ and white hot themes. No matter what the length, her works are always hot, but with a lot of heart. She enjoys giving her characters a second chance at love, no matter what the form. She's been nominated at the LRC for Best Author, Best Contemporary, Best Ménage, Best BDSM and Best Anthology. Her books have made it to the bestseller lists on various e-tailer sites.
When she's not writing, Megan spends time with her husband and son as well as three dogs and three cats. She enjoys art, music and racing, but football is her sport of choice. She's an active member of the Friends of the Keystone-LaGrange Public library.
Author Contact Links
Publisher on Facebook, Twitter & Instagram: @changelingpress